Donate
Hineini Campaign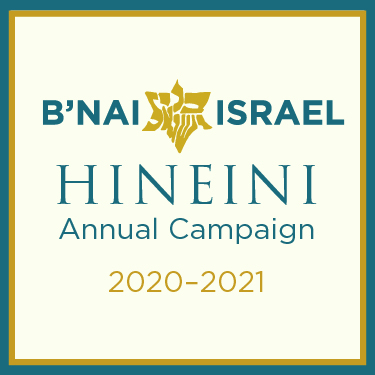 Thank you for your interest in B'nai Israel's Hineini Annual Campaign.
At B'nai Israel we are here, Hinenu. We are here as a home for Jewish life for you and your family. We are here to inspire and to guide you on your personal journey. We are here to celebrate milestones and to comfort through difficult times. We are here to support the larger Jewish community here in Washington, D.C. and in Israel.
Our Hineini Annual Campaign provides B'nai Israel with much-needed support, enabling us to sustain our high level of excellence. It's a call, and an opportunity to respond, "Hineini, I am here," and want to help.
You can help us rise to this challenge by giving us your support as generously as you can. No donation is too small and every gift is meaningful. Membership dues, education tuition, and all other resources combined do not fully support the $5 million budget necessary to provide for our B'nai Israel community's needs.
We extend our deepest thanks for your support in sustaining B'nai Israel's exceptional standard of excellence, as well as helping to position us for the future.
Click here to make your Hineini Campaign donation.
Thank you for your meaningful support,
Avery Sudow, Communications and Development Director
David Stein, Vice President of Development
Dina & Jay Gruber, 2020-2021 Hineini Co-Chairs
Fri, September 25 2020
7 Tishrei 5781
announcements
Our High Holiday Livestream is Live!
For the service schedule and access to the livestream, click here.
Join Us Virtually
Click here for our upcoming events and programs. We look forward to connecting our community.
High Holidays 2020 Information and Schedule
While it is clear that this year's High Holiday experience will look very different, we have created meaningful opportunities for our entire community to learn, pray, and reflect. Learn more.
Daily Minyan and Shabbat Services are Virtual
Click here for our worship schedule and access information.
Talmud Torah 2020-2021 Registration is Now Open
Our K-12 religious school program is registering students now. Click here to learn more and register.
Schilit Nursery School Registration is Now Open
Our award-winning school offers flexible programs for young 2's through Pre-K and we have welcomed students to our building this fall! Spaces are limited. Click here to learn more.
weekday services
Sunday | 9:00 AM & 8:00 PM
Monday–Thursday | 7:15 AM & 8:00 PM
Friday | 7:15 AM
*Service times vary on holidays.
Click here to join the virtual minyan.
shabbat services
Friday | 6:15 PM
Saturday | 9:00 AM & 12:30 PM (Minha)
Click here for information about livestreaming.
We are accessible
B'nai Israel is proud to be accessible to all.
Large print siddurim, assistive listening devices and page magnifiers are readily available. Our entire building and grounds are wheelchair accessible. We can provide sign language interpreters upon request and subject to availability.
Fri, September 25 2020 7 Tishrei 5781