Scientists in Synagogues Community Kick-Off Conversation: God-fearing Scientists and Science-loving Rabbis
Sunday, September 11, 2022
•
15 Elul 5782
7:30 PM - 9:00 PM
This program will take place in-person only. Future sessions of Scientists in Synagogues will be offered both in-person and virtually.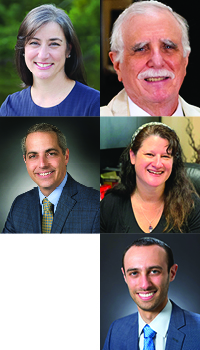 Most people would agree that there is no empirical evidence for the existence of God. Some would suggest that this lack of empirical evidence is a barrier to religiosity, while others would assert that this is precisely one of the challenges that faith presents to its adherents: to believe in something without complete knowledge or understanding. A person of faith does not need evidence, facts, or data to affirm belief in a greater power. For centuries, theologians from Rambam to those of today have tried to bridge the divide between our religious beliefs and our empirical knowledge of the physical world. In this kick-off community conversation, a panel of B'nai Israel's very own clergy and scientists will address the core issues at the heart of this discussion about science and religion. Panelists include Dr. Fredric Messing, Dr. Marni Hall, Rabbi Michael Safra, and Rabbi Cheryl Stone. Moderated by Rabbi Mitchell Berkowitz.
Dr. Fredric Messing is a former Associate Professor of Physics at Carnegie Mellon University. Dr. Messing serves as a congregational gabbai, reads Torah, leads services, and has pursued extensive independent study in Jewish text.
Dr. Marni Hall is Vice President of Regulatory Science and Strategy at IQVIA, where she focuses on the use of real-world data to advance public health. She combines her experience as a biomedical research scientist, professor, and former regulator to advance public health. Being Jewish helped her to become an innovative researcher.
Register below.
Sorry, Registration has ended.
Share Print Save To My Calendar
Mon, March 27 2023
5 Nisan 5783
Livestream
Shabbat Services
Friday at 6:15 PM Saturday at 9:00 AM
announcements
Passover at B'nai Israel
Click here to learn all about our Passover workshops and celebrations.
B'nai Israel Schilit Nursery School Registration for Camp and the 2023-24 Program Year is now open!
Our award-winning school can't wait to meet your family. Learn more.
Get Away with B'nai! Two Opportunities:
Congregational Shabbaton on May 12–14. Join us.
Congregational Israel Adventure on June 18–29. Join us.
Thank you for voting us Best of Jewish Washington 2022.
Click here to see all of the awards including Best Preschool, Best Hebrew School, Best Senior Programming and many more.
B'nai Israel Buzz: Have Coffee with a Friend ON US!
This new program encourages meaningful conversations. Learn more.

Join Our Shabbat Morning Livestream
Click here to access.
Explore Our Exciting Adult Education Offerings
Learn more here.
weekday services
Sunday | 9:00 AM & 8:00 PM
Monday–Thursday | 7:15 AM & 8:00 PM
Friday | 7:15 AM
*Service times vary on holidays.
Click here for access information.
shabbat services
Friday | 6:15 PM
Saturday | 9:00 AM & 12:30 PM (Minha)
Click here for access information.
We are accessible
B'nai Israel is proud to be accessible to all.
Large print siddurim, assistive listening devices and page magnifiers are readily available. Our entire building and grounds are wheelchair accessible. We can provide sign language interpreters upon request and subject to availability.
B'nai Israel Congregation
6301 Montrose Road, Rockville, Maryland 20852
301.881.6550
Mon, March 27 2023 5 Nisan 5783